Check your email inbox for a link to download the worksheet.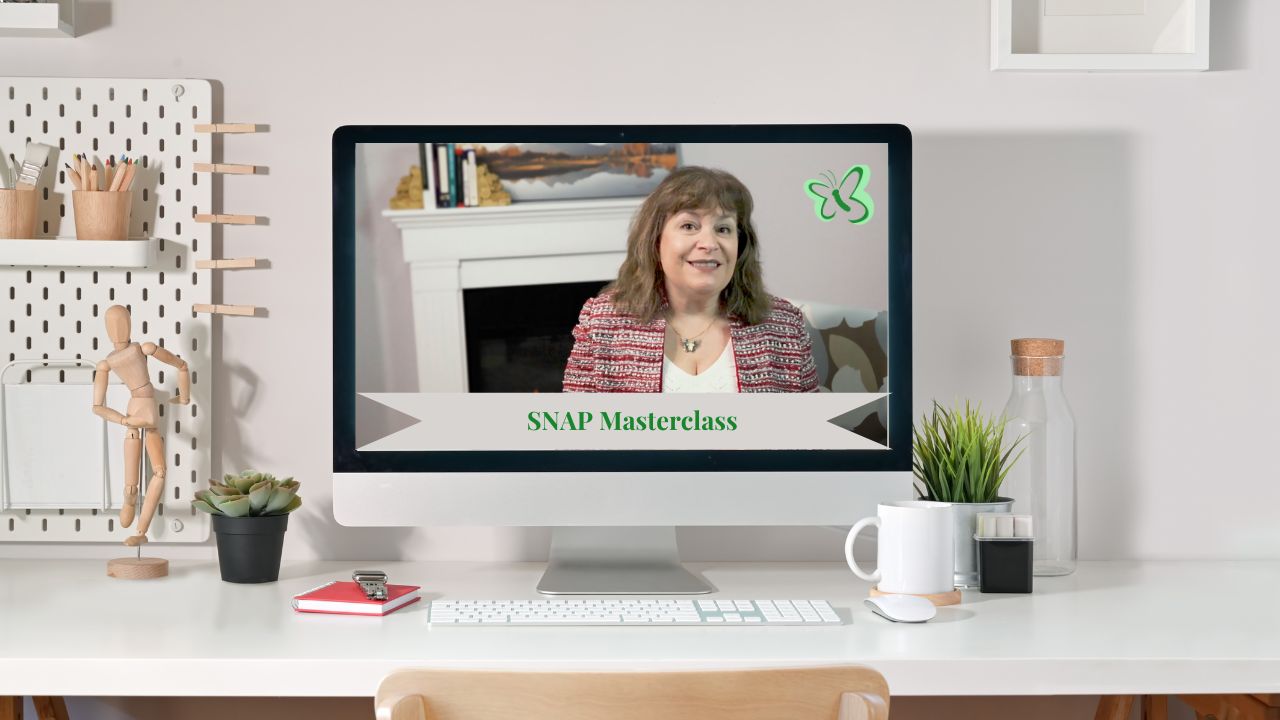 Develop the Skills, Knowledge, and Confidence to Create a Life Plan
...
Gain advice and counsel on how to navigate disability planning issues including housing,
financial management, public benefits and agencies, elements of adult living, legal authorities, as well as employment.

Learn how our online course and coaching program can help you develop the skills, knowledge, and confidence to create a life plan for yourself or your disabled person.


The Path for Finding Care Options or Creating a Disability Support Plan Is Not Straight

Where do you go for help with identifying options?
What if the information you've received so far is confusing or contradictory?


Get on the Right Path
Our course and coaching program help you design a clear roadmap by asking questions to help you frame the issues and develop your next steps at each level so you can attack the problem as it comes along in creating a life plan and course of action for each element of independent living.
After 15 modules, you will able to design a personalized disability support plan and get started on living your best life!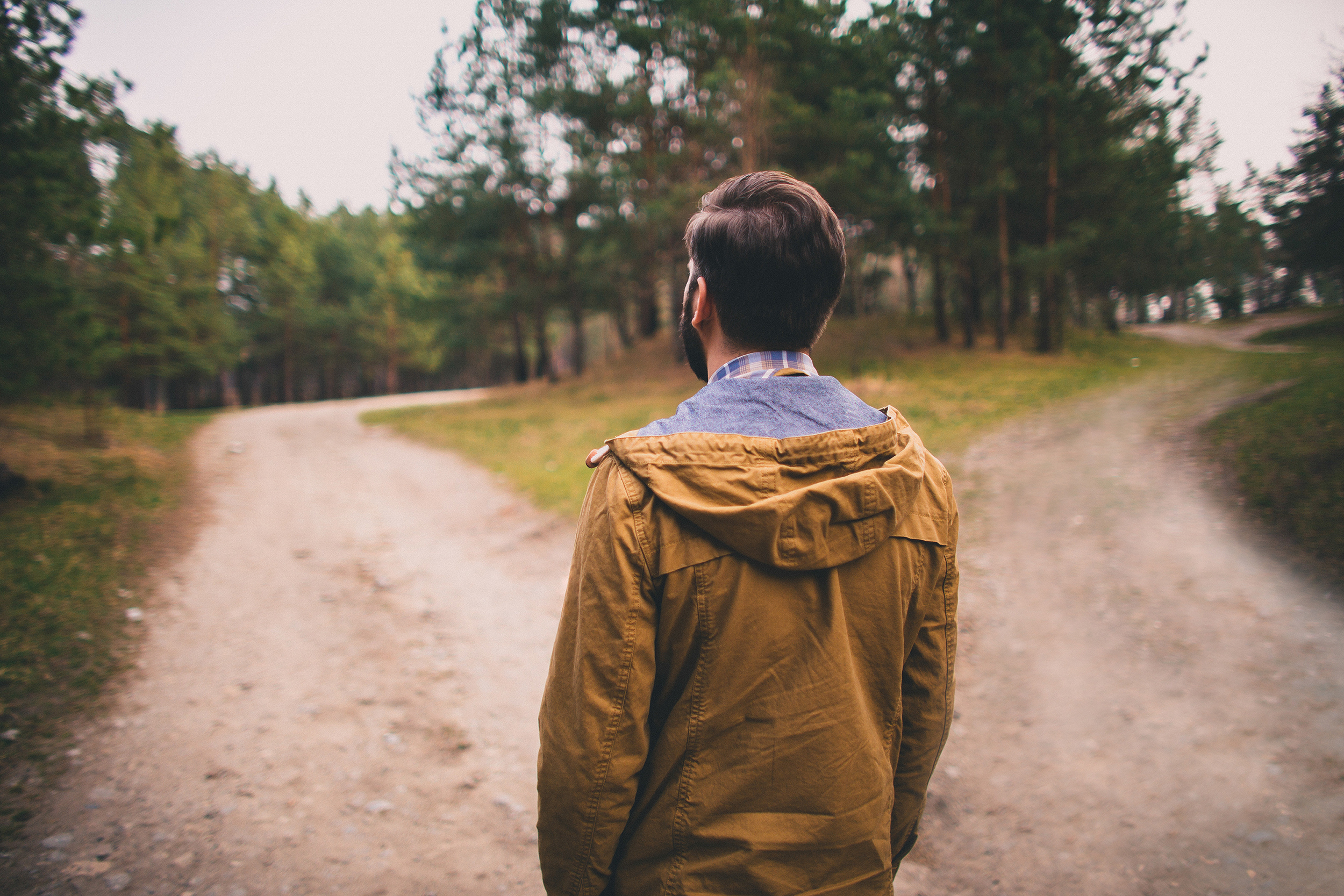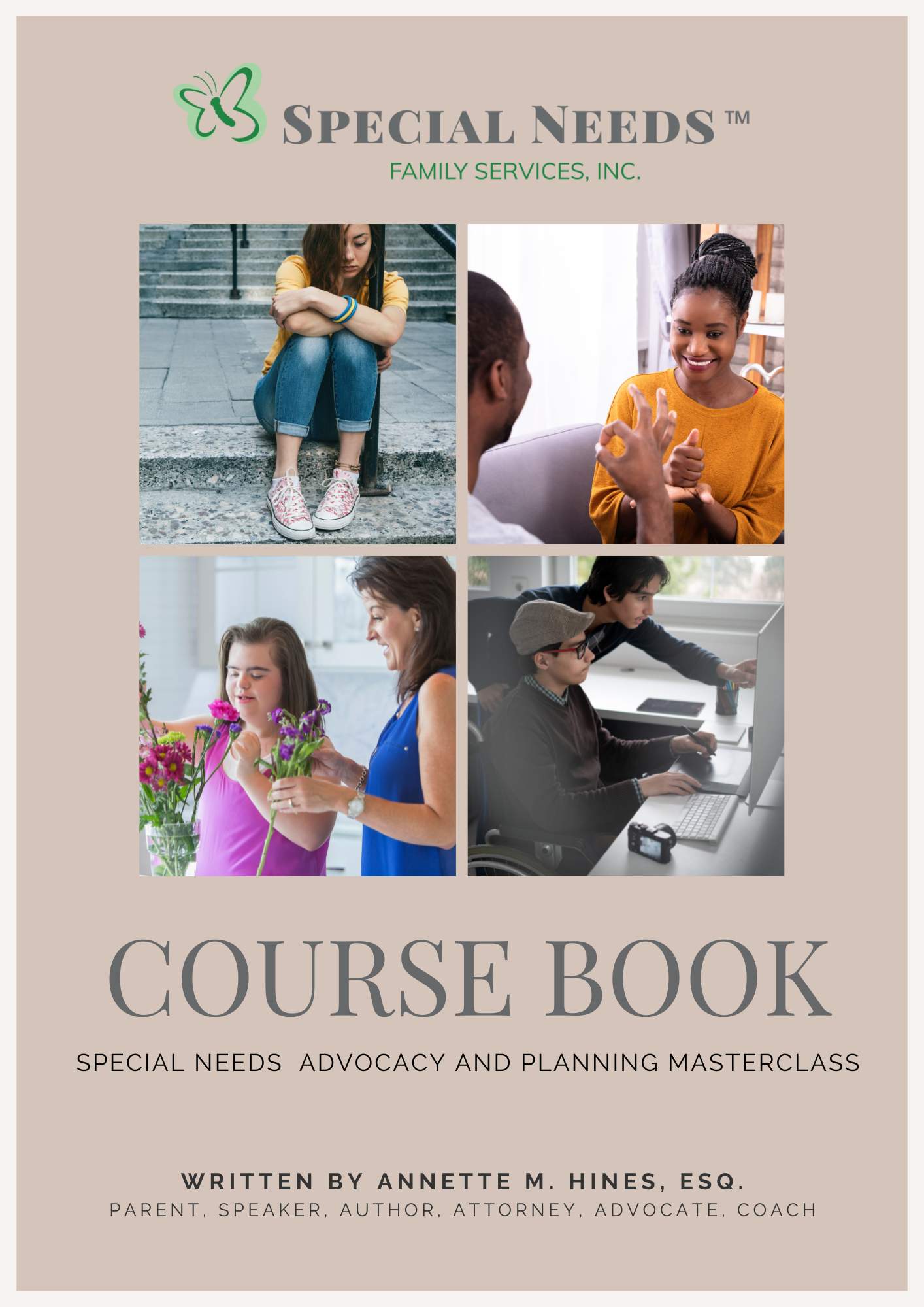 Applicable in All 50 States!

What's Included: Workbook + Course Book + 15 Video Modules + Bonus Glossary of terms for the disability community applicable for any student nationwide

85+ Page Downloadable Course Book
Insight on qualifying for federal benefit programs like SSI and SSDI
Instruction on how to empower the disabled person and support the decision-making process
Considerations for assessments and evaluations and whether they are necessary for the transition process
Dedicated module on emerging adults, the IEP, and working with the school
ABLE account information
Accessible overview of the types of Special Needs Trusts
Guidance on alternatives to guardianship or conservatorship
Comparison of the roles of incapacity documents, supported decision-making agreements, and other legal documents 
The course content fits any special needs family or individual nationwide. We have designed the materials so that you can bring them to your supporter, agency contact, advocate, or professional in any state.

Choose either to enroll in the online course only or join a group or private coaching program to introduce added guidance to create a disability support plan.

Plus, You Also Get ....
Disability Support Plan Worksheet to outline a timeline for action steps
Advocacy and Planning Checklist
Advocacy Tips Sheet
Video modules sharing both personal experiences and professional information to support you throughout the transition in care or services

40+ Page Downloadable Workbook
Exercises can be provided to any agency or professional nationwide as benchmarks for specific goals
Space to identify the financial and caregiving resources
Guided exercises on creating a list of possible trustees, trust protectors, and other supporters
Comprehensive exercise for creating a Letter of Intent

Access the course modules for 12 months from the date of purchase. The modules can be taken in any order and repeated.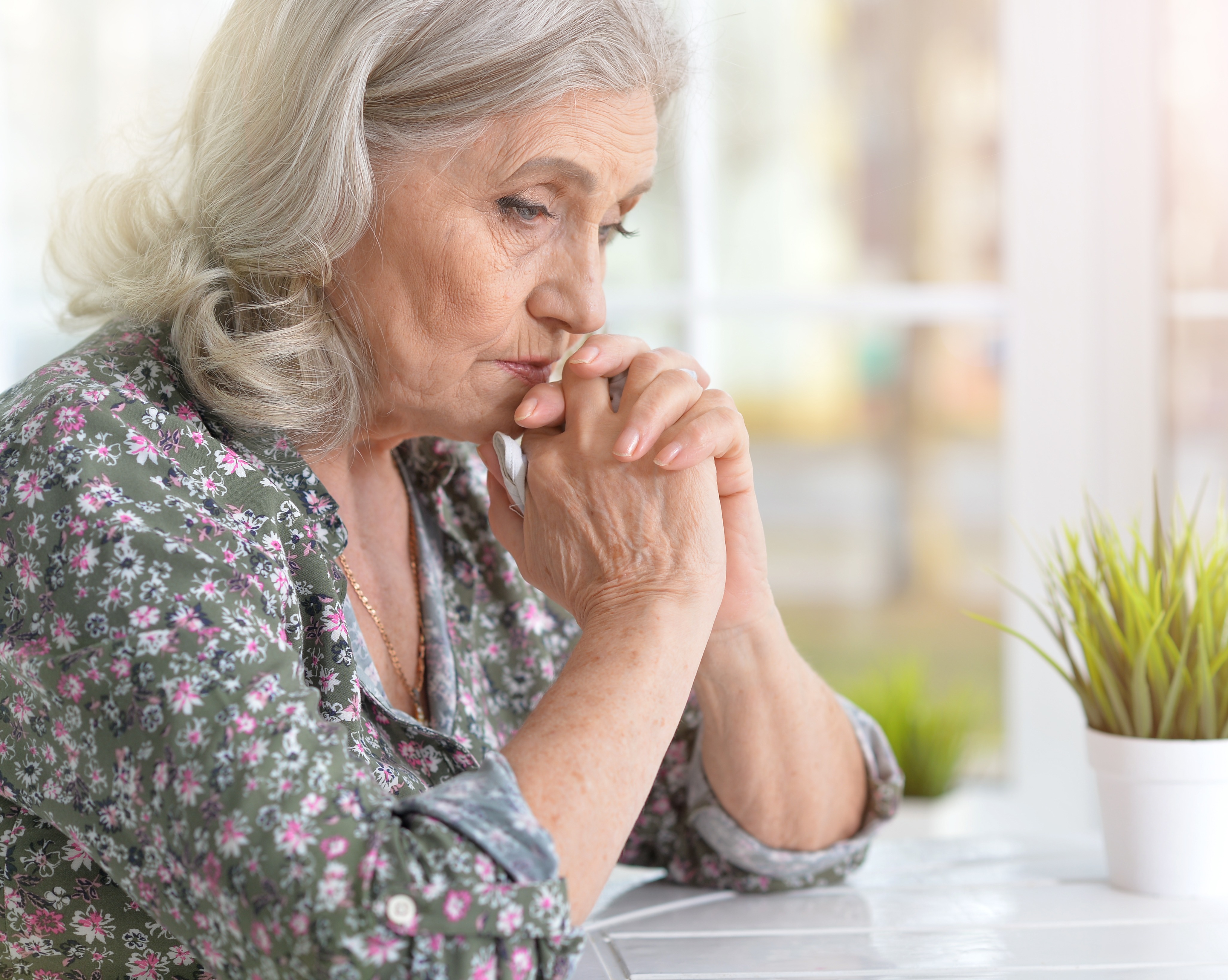 Does this Sound Like You?
disabled and confused about the services and supports available to you.
or
a parent burdened by trying to navigate the complex systems of support for your child.
or maybe
overwhelmed by your new role as caregiver navigating systems and supports.
perhaps
a professional unsure where to find clear guidance for your disabled clients and their families.

Founder's Story ~ Annette M. Hines

I always tell people that first and foremost, I am a mother of two daughters, one of whom passed away from mitochondrial disease in 2013. This deep, personal understanding of special needs fuels my passion for quality special needs planning and advocacy. My daughter Elizabeth was profoundly impacted by her healthcare needs and disabilities, and I share about my family's experiences with her journey through this course and in my memoir, Butterflies and Second Chances to provide you with hope and consolation that you are not alone. 
In addition, I have over twenty years of experience as an attorney and advocate in the areas of Special Needs, Elder Law, and Estate Planning. I oversee two organizations in my home state of Massachusetts, but work with families nationwide and have extensive experience with federal services. I'm also the host of the weekly Parenting Impossible – The Special Needs Survival Podcast.
I'm so glad you're here!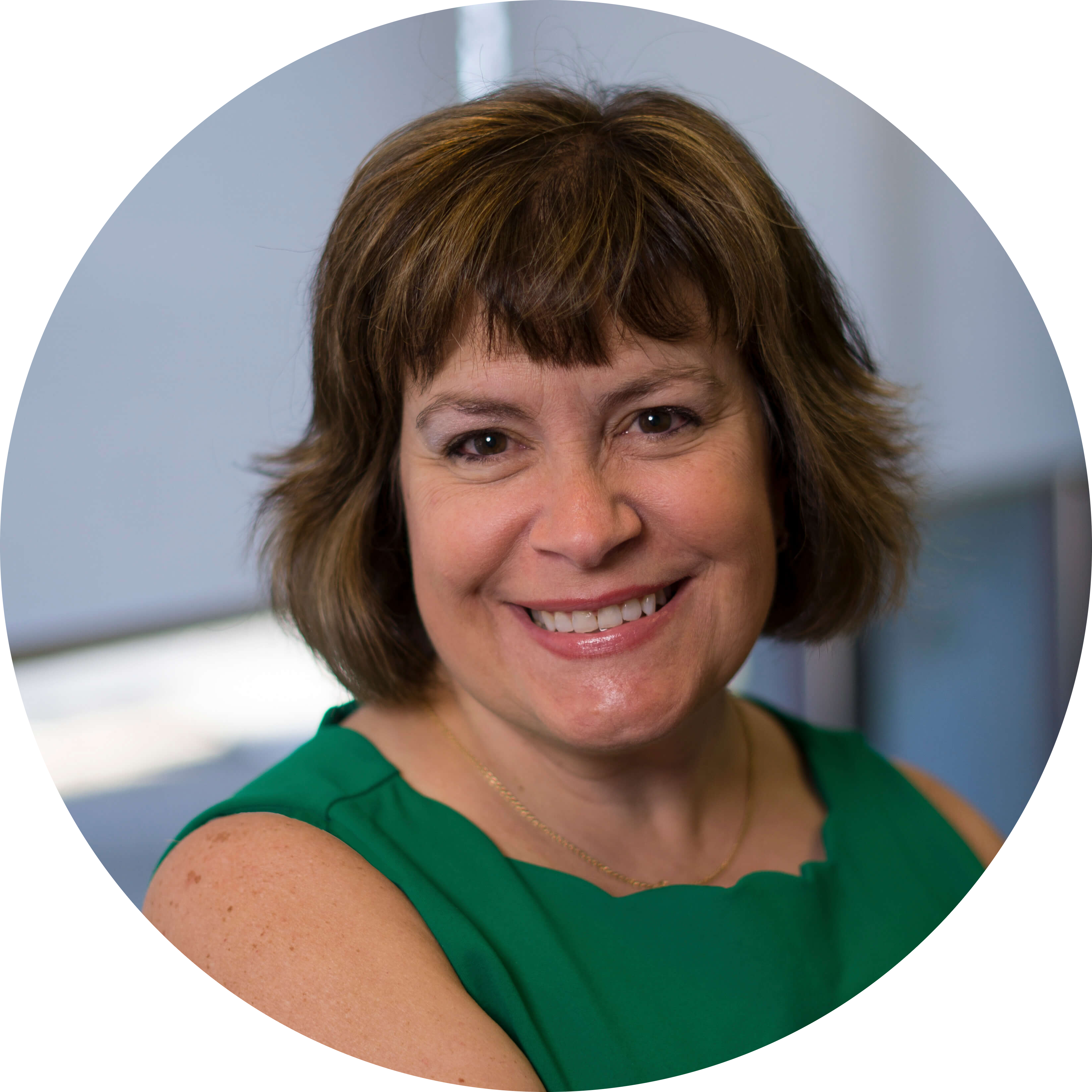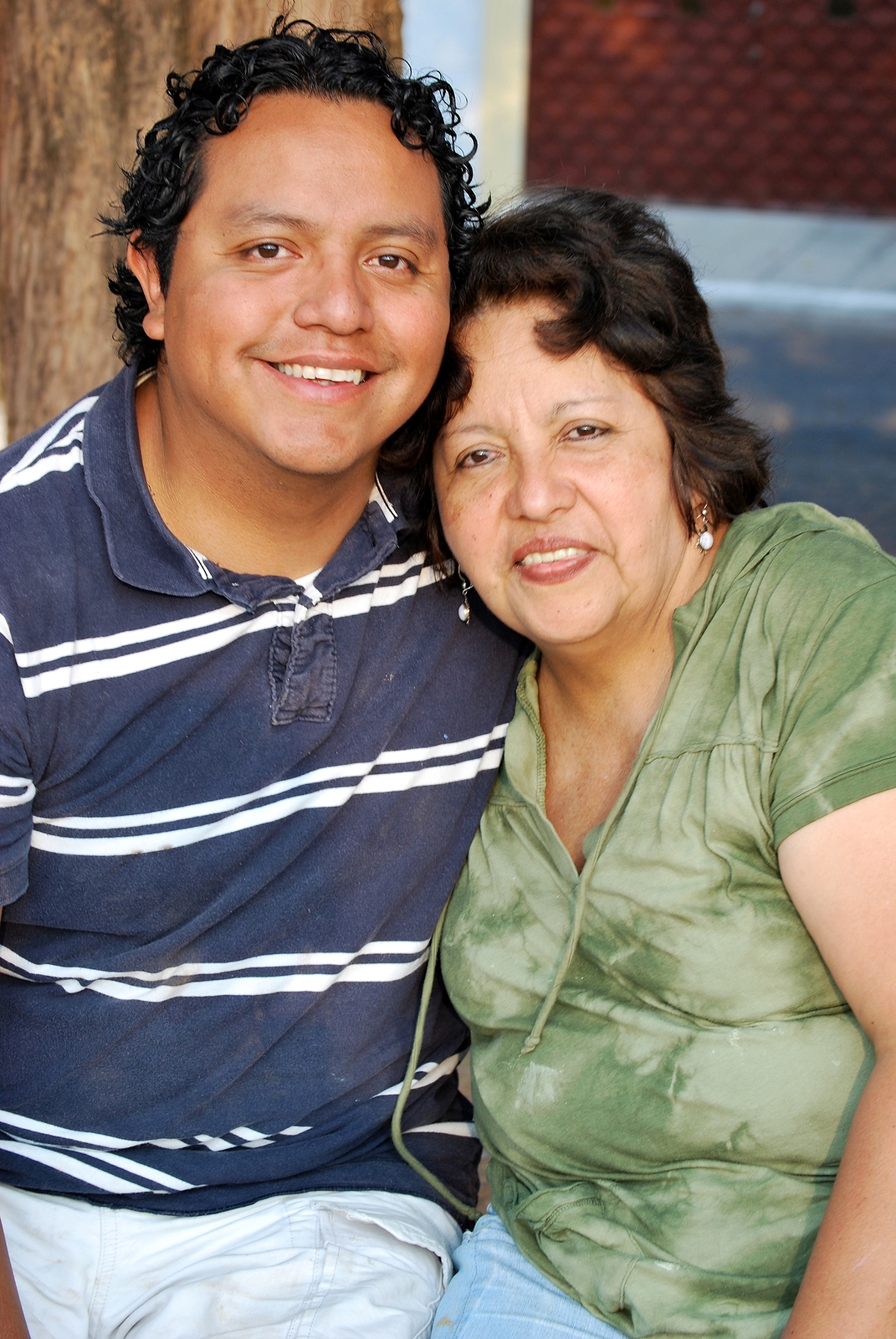 Imagine if you ...

finally
felt empowered and knowledgeable as an advocate for your special needs person,
and

understood how to navigate care options and the complex systems of support,
or

were confident about your new role as a caregiver in navigating the agencies, systems, and supports,
and

had a system for organizing your resources, questions, and action steps to accomplish your goals,
and even

felt validated and comforted knowing that you have the guidance and compassion of a special needs mother and legal expert at your fingertips.

Take a Peek into the Modules

Click below on Preview to watch Module 1!

Organize Your Resources ...
and identify what elements you already have for the process and which ones you are missing in the three primary areas featured below.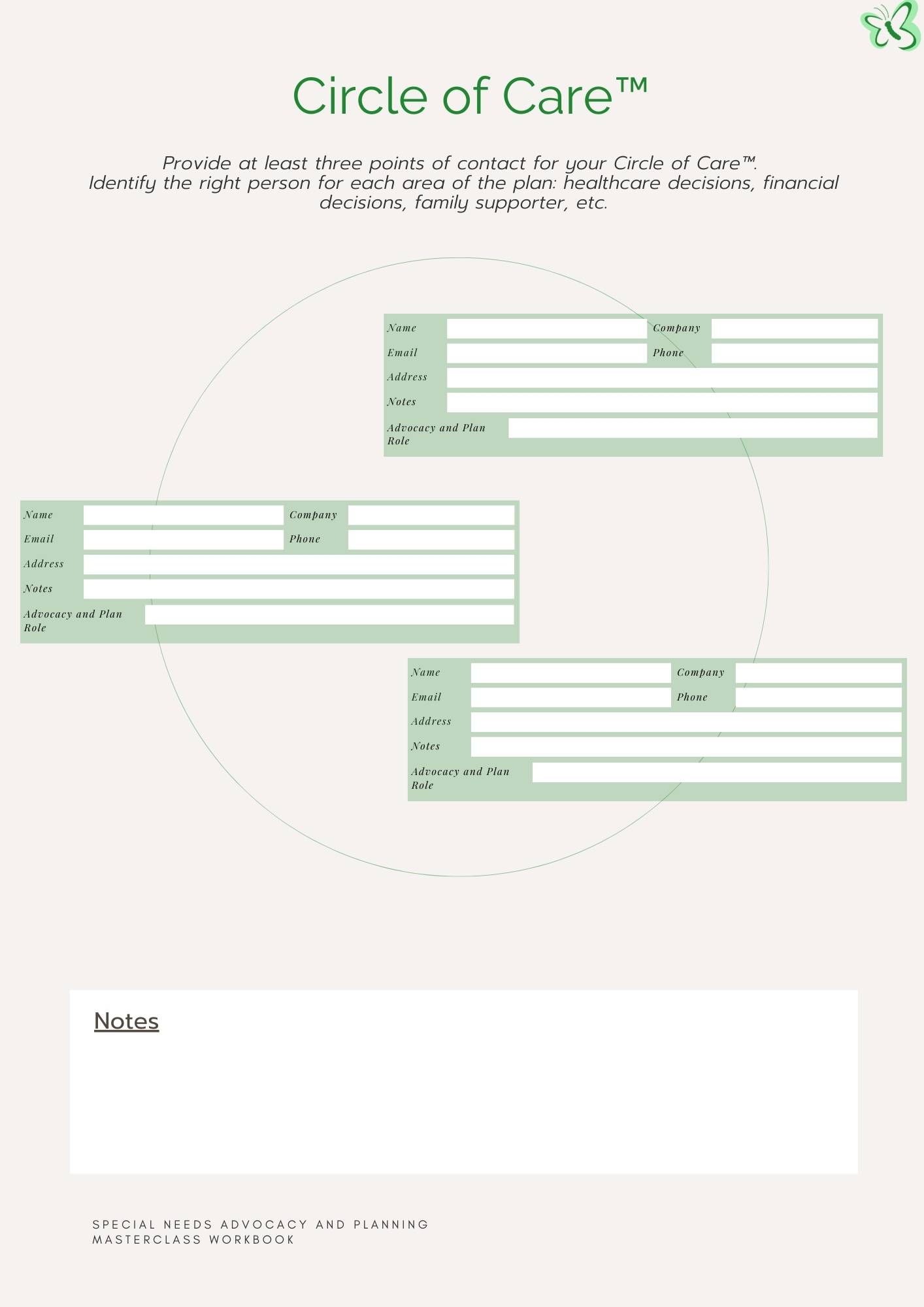 Unit 1: Public Benefits

Obtain guides to consider the role of public benefits for you or your person in the course's longest unit that examines access to federal public benefits and eligibility rules including student services, SSI, and SSDI; assessments and evaluations; healthcare; and housing. You'll consider the financial elements and the people who will be involved in your support team. We call this your Circle of Care (TM).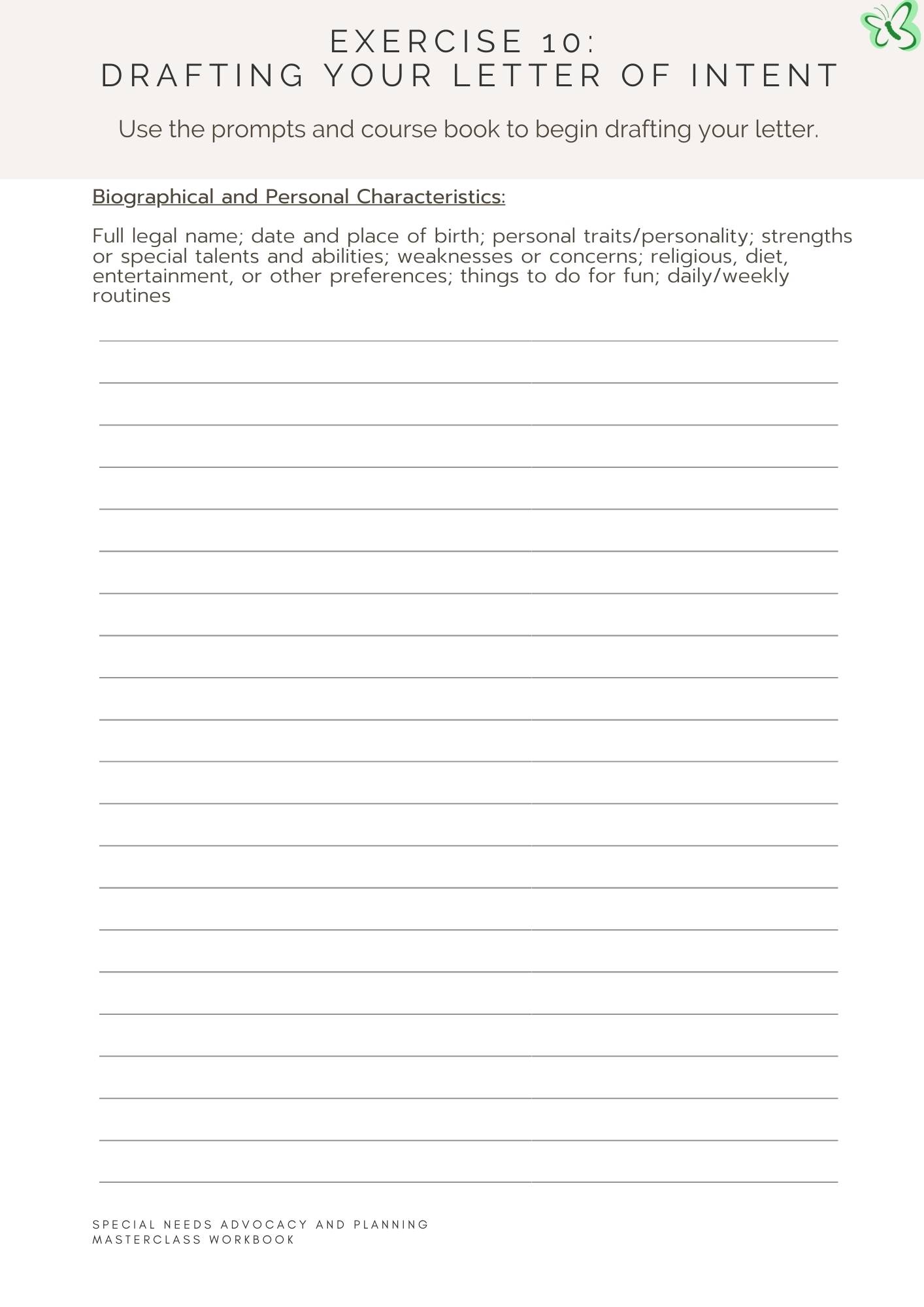 Unit 2: A Legal
Estate Plan

Learn about the importance of legal estate planning with a particular method called a special needs trust. Explore the types of special needs trusts, the role of the trustee, ABLE accounts, and how to document your wishes for your person as a parent or guardian in the letter of intent.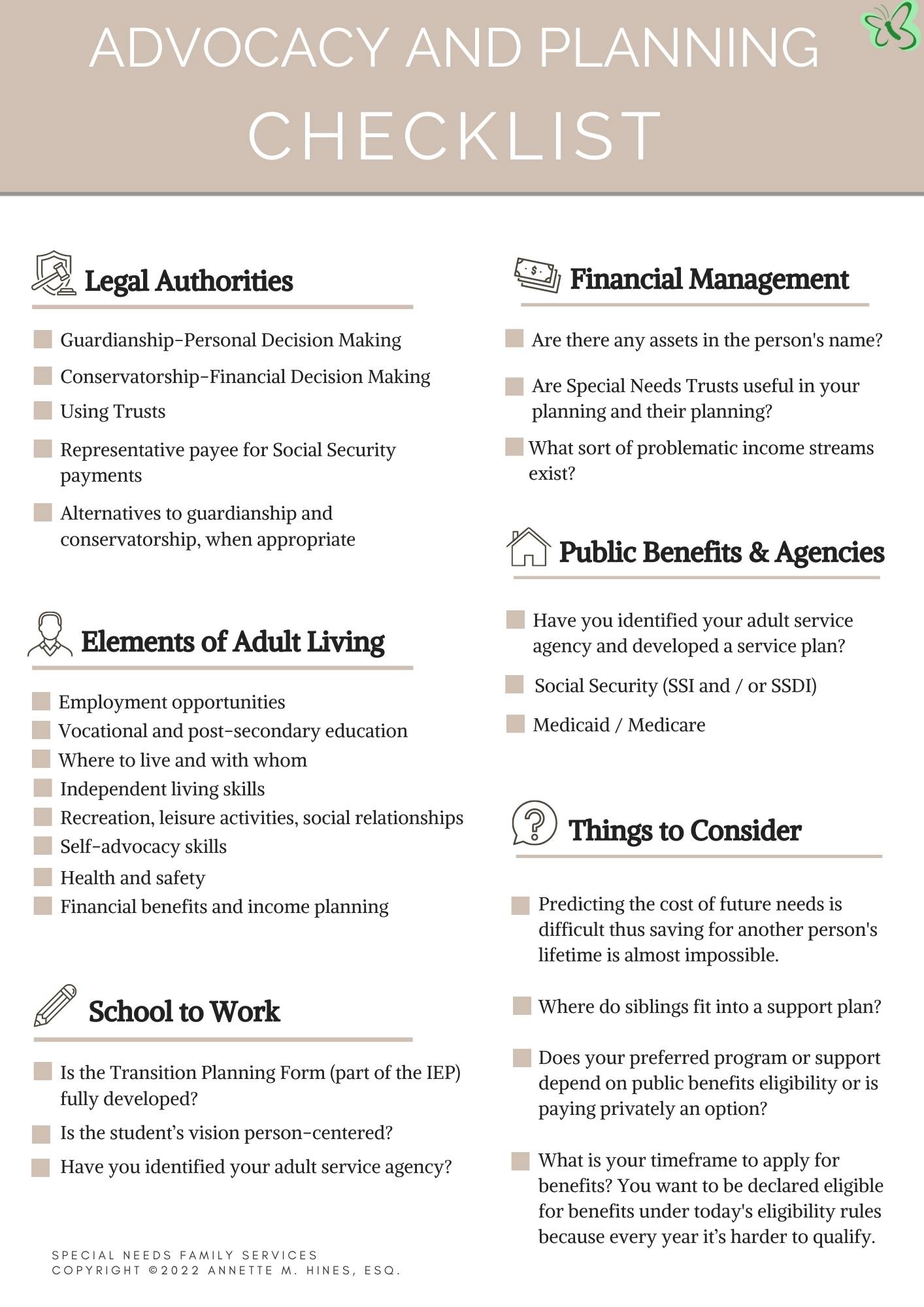 Unit 3: Legal Decision-Making and Authority
Consider how much assistance you or your person needs making decisions in this unit. Many people assume that guardianship is the only option, yet this unit will help you consider the many other possibilities such as supported decision-making agreements that are less intrusive and emphasize the person's voice and choice for their life.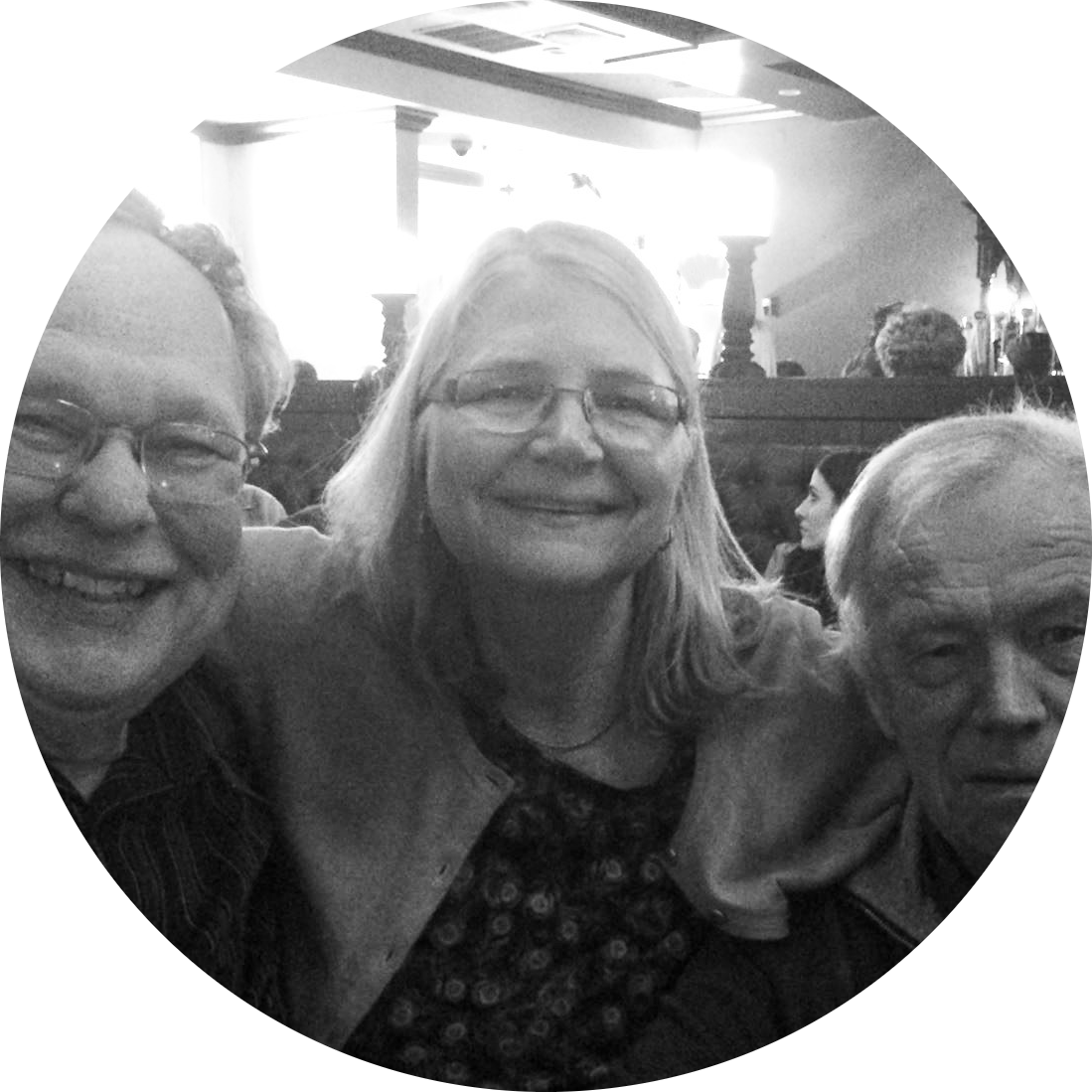 Cynthia Wisniewski
Student and Former Client

This course was so helpful in moving me from completely confused, overwhelmed and frozen to organized, energized and ready to research. It does not provide all the answers. It provides all the questions. It guides you in structuring all the areas you will need to address: the info you currently have, the info you still need to get, the resources available, and the agencies or organizations that can help, so that you will be empowered to develop your own individual plan. I highly recommend it!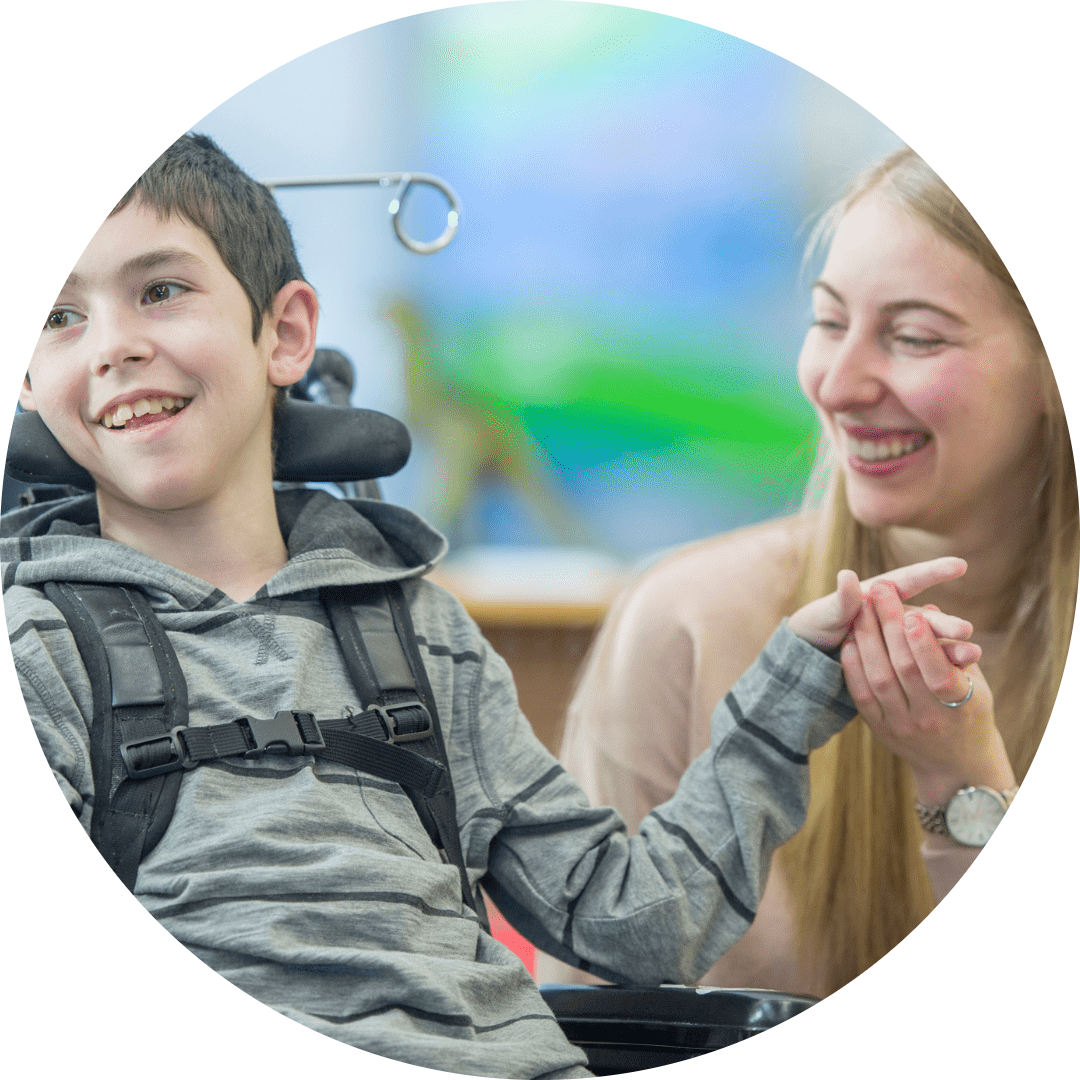 Ashley
Student and Former Client

I have not encountered any other resource that exists that so carefully and thoughtfully guides those who need it, through a step-by-step overview of planning pieces to have in place to ensure the secure future of the disabled individual. Course participants have the opportunity to begin shaping transition plans for themselves or the disabled individual in their lives at a pace that is not overwhelming. Attorney Hines emphasizes the importance of taking a person-centered approach with all of these topics, and ensuring that the wishes and voice of the disabled person in your life is heard in each step of the process. After this course, you will have a path to set forth on, for tasks that likely felt too big to even know where to start, before taking this course.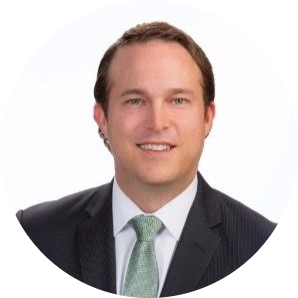 James Grace
Director of Wealth Management at Silver Pine Capital & Silver Pine Insurance Partners

As a financial advisor, one of the most complex situations I find myself in is providing guidance to individuals with a family member with special needs. Annette and her team at The Special Needs Companies are an amazing resource and I would never think of advising a special needs family without consulting them. I would highly recommend her online courses for families trying navigate and properly plan for their loved one, as well as professionals looking to better understand the challenges that their clients are facing.






FAQs
Are there any special enrollment codes for the course and/or the coaching program?
Yes! Email [email protected] and we'll send you a code to register at an exclusive rate.
How soon can I access the course after purchasing it?
You can access the course modules and materials immediately. You will receive an email confirmation after purchase that will guide you to create a log in for the course site. You will have 12 months of access to the course.
What format are the course and materials in?
The course is offered entirely online through a password protected site. It is comprised of video recordings that you can watch at your own pace as often as you like. The course materials are electronic downloads that you can save to your computer or print to use.

Who is this course designed for?
The course and coaching program are designed for anyone in the disability world who need guidance to develop a support or life plan for a disabled individual. Those with disabilities, parents, guardians, caregivers, allies, and professionals will all benefit from the course.
Is the course state-specific?
No, the course material is applicable to anyone nationwide in the disability community. The public benefits and laws discussed are federal and apply to individuals nationwide.

What types of coaching options are available for Special Needs Advocacy and Planning?
Group Coaching is offered as part of a bundle with the online course for two separate cohort groups:

Professionals
Individuals, Family and Caregivers


Private Coaching is offered as part of a bundle with the course, or a group of four sessions can be purchased separately. Private coaching sessions are scheduled upon purchase, so the date and time of the coaching appointments are chosen based on what works best for the student's schedule.

Private coaching with Annette Hines (purchase separately or as a bundle)
Plan implementation coaching with Julie James (purchase separately)
Who do I contact for more information?
Schedule a free call with us now. You can email our company, Special Needs Family Services, Inc. at [email protected] or visit our website: https://specialneedsfamilyservices.com

What is your refund policy?
We offer a full refund for the cost of the course within 30 days if you are displeased. We ask that you contact us via email or phone using the information above. Due to the scheduling and time commitment for coaching, we do not refund coaching sessions, but we will work diligently to ensure your session meets your goals and needs for your plan.

Disclaimer
This course and all videos and documentation are for educational and informational purposes only and do not constitute legal advice, nor is an attorney-client relationship formed by you reading the material or watching the associated course videos. The author does not assume any liability for any loss or damage due to reliance on this material.
Special Needs Family Services, Inc.
211 Cochituate Rd, Framingham, MA 01701
(508) 669-7227